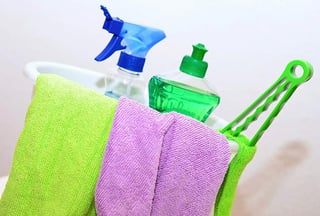 While the nights remain cold enough for a coat, the days are starting to warm up as spring is on its way! After winter's rainstorms, ice, and even a little snow, your house may be looking a little dingy, dated, and worse-for-wear. Freshen things up for spring by taking our cleaning tips and bringing back your home's curb appeal.
Start With the Exterior
The truth is that it's the outside of your home that will show the most wear and tear after winter ends. While the steps to bring your exterior back to looking like new aren't particularly complicated, they are a little time-consuming, so we suggest dedicating one day to your exterior, and a second to your interior. For your exterior spring cleaning, we recommend:
Checking for roof damage. This may be as quick as just taking a walk around the house, looking for obvious damage or for loose shingles. It's important to fix any roof damage as soon as possible to avoid water finding its way into your home.
Clean your gutters and downspouts. Gutters are integral to making sure water runs away from your home, just like it should. Clean your gutters out and make sure downspouts face away from the home and water drains at least six to eight feet away.
Clean up debris in the yard. Remove downed tree branches or any piles of leaves that have built up and will keep grass from growing evenly. You'll also want to trim bushes and tree branches for safety.
Bring out your garden tools. Once the danger of frost has passed, it's time to pull back out those sprinklers and garden hoses that safely wintered in your garage or storage unit. Hook them back up and you're ready to start the new season.
Next, Let's Head Inside.
Our suggestions aren't your average "spring cleaning" thoughts on cleaning tips and tidying up. When it comes to spring home maintenance, there are a few safety checks you need to make inside to be sure that your family is protected from possible household hazards for the year.
Check your outlets. Go room by room, checking each outlet for potential fire hazards. Look for frayed wires, loose-fitting plugs, and overloaded outlets or extension cords. You may invest in surge protectors in some heavy-use areas of the home, or even move some electronics into different rooms to lighten the electrical load.
Where's your fire extinguisher? Most people think of fire extinguishers as being something you see in a business setting, but it's worth keeping home at home in a heavily used room, such as the kitchen. A working fire extinguisher could be the difference between a small, easily-controlled fire and a large fire that causes serious damage.
Take a look at your water heater. Check around your water heater for corrosion or leaks, and have any issues fixed as soon as possible.
Replace your air filters. We suggest everyone replace their air filters monthly if your filter isn't designed to handle serious home traffic, and quarterly for heavy-duty filters. We find it's a good rule to switch it out every time the seasons change.
Test your smoke detectors. Always test your smoke detectors at least twice a year. Make sure there is one for each floor of your home, possibly more than one in areas where fire is a more serious hazard, such as near the kitchen. Test once a month, and change the batteries once a year or as needed.
Finally, clean out your dryer vent. One of the most common causes of house fires are overloaded dryer vents that are full of incredibly flammable lint. Twice a year, we recommend taking a few minutes to vacuum out the dryer vent and sweep up any lint that has built up on the floor around your washer and dryer.
At Vista, it's our goal to give you the luxury dream home you've been searching for. With communities located around Western North Carolina, you can choose to live right on Bill's Mountain, stay a little closer to sea level at Vista at the Riverbank — or pick your perfect spot right in between in our communities near Hendersonville. Interested in learning more? We'd love to hear from you! You can reach us by phone at (866) 519-2400 or contact us online at any time.