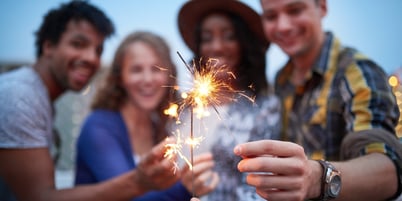 Celebrating our nation's birthday isn't complete without grilling out by the water with family and of course ending the night with fireworks!
Unfortunately, fireworks are a major cause of injuries during the summer. According to the US Consumer Product Safety Commission, 230 people on average go the emergency room every day with fireworks-related injuries in the month around the July 4th holiday.
We want everyone to enjoy the at-home firework experience but we also want them to stay safe. Follow these firework safety tips to keep you and your family from making a trip to the emergency room this 4th of July:
Never allow young children to play with or ignite fireworks
Never point or throw fireworks at another person
Keep a bucket of water or garden hose handy in case of fire or other mishap
Older children should use them only under close adult supervision
Anyone using fireworks or standing nearby should wear protective eyewear
Never light fireworks indoors
Only use fireworks away from people, houses and flammable material
Only light one device at a time, and maintain a safe distance after lighting
Never ignite devices in a container
Do not try to re-light or handle malfunctioning fireworks
Soak unused fireworks in water for a few hours before discarding
If you are planning on having your own backyard firework display this year, please make sure to check with your neighbors before doing so. Especially neighbors with animals: animals have sensitive ears and can be extremely frightened or stressed on the Fourth of July.
Do not leave your animals outside during the hours when fireworks are most likely to occur. The Fourth of July holiday is one of the worst days of the year for animals breaking out of fenced-in yards, as the sound of fireworks may cause them to panic and try to run away from the noise or hide. Bring Fido inside or give your dog or cat a safe space inside your garage where they can feel safe.
Rather go see a professional display this year? Check out ExploreAsheville.com's list of Fourth of July Events and Activites in Asheville, NC. Share your adventures with us on our Facebook page!
If you enjoyed this article, please check out other posts on our blog and join us on Facebook, Twitter, LinkedIn, Google+, and Pinterest to see how Vista Developers can help you call the Blue Ridge Mountains home.