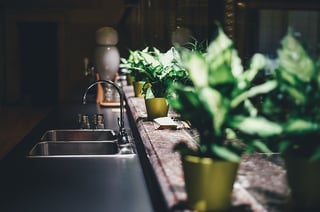 We can thank Joanna Gaines for all the hype of the farmhouse decor and homes. This style has become insanely popular since "Fixer Upper" has aired and one of the things we love most about the Farmhouse trend is all of the emphasis on bringing greenery right into your home!
Bringing the outside in has many benefits to your health: houseplants help to absorb pollutants and exchange the for oxygen, improving air quality. They're also peaceful and relaxing to look at.
We are sharing four easy ways for you to bring your living spaces to life. Let's get started!
Use Elements Found In Nature
If you see something outside that you love like a stone, a pinecone, branches, or other natural decor, bring it home with you and use it to decorate the rooms. Use these little things as accent details and combine them with hanging planters or fresh flowers in vases. Try adding photographs and murals of these elements if you don't have the real thing on hand.
Let Natural Light In & Open Windows
Natural light is helps lighten your mood and is proving to keep us happy. If you like to have privacy but want natural light try sheer curtains or lighter fabrics. Fresh air also helps your indoor plants to thrive and help you feel alive and at peace. Turn off the AC occasionally and open your windows!
Bonus Tip: The spider plant (Chlorophytum comosum) is one of the best plants to bring inside to keep your home's air clean and fresh. It is one of the most popular and easiest to grow of house plants.
Use Colors Inspired By The Outdoors
Nature offers much inspiration for using color at home.From the color of the green forest to the bright, blue sky and the bold red in a fiery sunset, color is all around us. Work these colors into your home throughout your walls, window coverings, bedding and decor.
Decorate With Fruits, Vegetables, and Plants
Decorate an area such as the dining room with green elements such as fruits, vegetables, plants, and flowers. You can use these as centerpieces or in a variety of other ways. It would be like enjoying a picnic indoors where it's nice and cozy.
Bonus Tip: Use lemons, limes, and mint for a visual and aromatic outdoor inspiration!
Build Your Custom Dream Home
At Vista, it's our goal to give you the luxury dream home you've been searching for. With communities located around Western North Carolina, you can choose to live right on Bill's Mountain, stay a little closer to sea level at Vista at the Riverbank — or pick your perfect spot right in between in our communities near Hendersonville. Interested in learning more? We'd love to hear from you! You can reach us by phone at (866) 519-2400 or contact us online at any time.