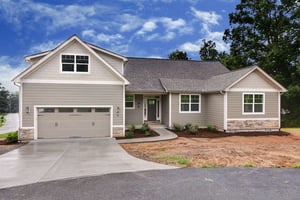 For many people, building a custom home has been a lifetime dream that feels like an unattainable goal. Finding the right builder, the perfect floor plan and finding a suitable lot in the right location seems too daunting.
We are uncovering the common myths and misconceptions about building a custom home so, that you can start digging with peace of mind!
Myth: Building a custom home is too expensive
Fact: We price every selection during the design phase while keeping your budget in mind, providing our customers with an itemized list of costs before they make a decision to build with us.
Myth: I have to buy land before I hire a builder
Fact: We start our process by discussing the type of neighborhood in which you wish to live. From there, we narrow down available lots that meet your criteria and then help you evaluate their suitability for the home you want to build.
Myth: It's hard to get a new construction loan
Fact: We can help you navigate the loan process and help you find the right lender and financing option for your custom home.
Myth: Building a custom home takes forever
Fact: Yes, this can be true depending on the builder you choose. Vista Developers has a streamlined process and team of experts that will ensure your custom home building experience is seamless and efficient.
Myth: Building a custom home is too complicated and time-consuming, and involves too many decisions
Fact: There is no question that building a custom home involves many, many decisions, but it doesn't have to be overwhelming. We work closely with our clients to ask the right questions and provide guidance and expertise throughout the entire process.
Myth: I need to know something about design to build my own home
Fact: We are designers, space planners and builders all in one—and we will help you create your own home from start to finish. We know what works well and we offer insight and suggestions that will help you create a home you will love.
Myth: I won't know what my home looks like until it's completely done
Fact: Our model homes are a great showcase for the "starting point" plans in our communities. We take the mystery out of the building process by offering a Vista Developers home that buyers can see, touch and feel.
Myth: There are WAY too many hidden costs
Fact: Part of having many up-front, in-depth meetings is being clear about costs and understanding your finances. When you build with us, you don't have to worry about these hidden costs. We will make sure you know exactly what's going on throughout the entire building process.
Myth: I will be pushed towards expensive upgrades and features
Fact: The great thing about building with Vista Developers is our homes come standard with many upgrades including high ceilings, granite countertops, ceramic tile, gas fireplace and more!
Myth: Communication with Builders is a nightmare
Fact: Not all builders are the same, and a quality builder will certainly place communication as a priority. Our primary objective is to provide you with the home you expect by listening intently. We pride ourselves on staying in touch with our clients and letting them know of any hiccups so they can be resolved efficiently in a timely manner.
Does the Idea of Building Have you Flustered? We Can Help!
We know that building a home from scratch can sound extremely scary and time-consuming. At Vista Developers, we work with each of our clients closely to make their dreams a reality in Western North Carolina without all of the hassle.
If you are interested in talking to one of our builders and coming home to one of our Vista Developers' communities call us at (866) 519-2400.
Would you rather have this information in an infographic? Download our FREE infographic by clicking the banner below.