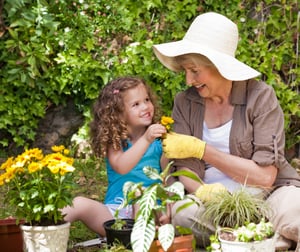 When you're living in a custom home surrounded by the grandeur of Western North Carolina, it's natural to want to re-create a piece of that paradise in your own yard.
But you also want to have time to get out and enjoy WNC without having to spend every spare moment maintaining your garden.
Fortunately, there are some simple tricks to create a sustainable garden that's not only easier to maintain, but better for the environment. While we can't cover every eco-friendly gardening tip (you'll find a lot out there!), here are a few pointers to get you started:
Get to know the lay of your land!
It's easy to take a quick glance at your new landscape and decide that a hydrangea would look great there while the veggie garden would look nice over there. But this arbitrary way of assigning gardening locations can create more work and frustration in the long run.
The next time you're home for the day, take special note of where the sun lingers during the morning, afternoon, and evening. If it's raining, make note of how the water flows from your home's water spouts and from higher ground to lower ground.
Once you're wise to how your yard functions, maximize its natural potential. You'll know where to plant sun-loving plants (such as peppers, zucchini, and many herbs), which need six or more hours of sun a day, versus where to plant shade-tolerant lettuce and other greens.
Place thirsty plants such as tomatoes where they'll get a lot of water on their own, and cover dry areas with drought-tolerant plants such as lavender and sage. You'll conserve water and won't have to work as hard to keep your plants beautiful.
Go native with wildflowers!
Want to know a secret to growing a low-maintenance flowerbed? Choose plants that have spent thousands of years adapting to North Carolina's soil and climate. Plants native to our mountain area don't need the same amount of coaxing and care to thrive as those originally from other parts of the world. View an extensive list of native flowers here.
Flowers native to Western North Carolina include:
Aster
Bee balm
Black-eyed Susan
California poppy
Dwarf goldenrod
Purple coneflower
Queen Anne's lace
Woodland phlox
Native shrubs include:
Blueberry (plant at least two varieties to cross-pollinate)
Bush honeysuckle
Flame azalea
Hydrangea
Mountain laurel
Rhododendron
Support your local honeybees!
Pollinators are vital to our food supply, making it possible for us to enjoy apples, peaches, berries, cucumbers and a host of other foods. But for reasons we don't fully yet understand, honeybees in particular are becoming endangered. You can do a small part in helping bees survive by planting flowers that are plentiful food sources for them. As a bonus, as you attract bees to your landscape, they're likely to pollinate your vegetables as well, resulting in a better crop.
Most of the local wildflowers above are bee-friendly, as are these flowerbed favorites:
Impatiens
Marigolds
Mums
Nasturtiums
Pansies
Violets
Use water wisely!
Yes, it is possible to keep your garden green while also conserving water. You'll need less water if you water in the morning or evening, not at high noon when most of the water will evaporate before it can reach the plant's roots. Surround your plants with mulch, which helps lock moisture into the soil.
If you have an irrigation system, don't set it and forget it—otherwise you may be watering your garden in the rain! Instead, check the weather and only turn on the sprinklers when rain isn't in the forecast.
Want to really conserve water? Consider investing in a rain barrel, which collects runoff from your roof and stores it for use in your yard. Make sure the barrel has a closed or semi-enclosed top to ensure it doesn't breed mosquitos.
Opt for compost
It turns out that the synthetic fertilizers and other chemicals Americans have been scattering onto their lawns and gardens leaches into groundwater and can cause major environmental problems. Fortunately, it's not too difficult these days to find more sustainable options that in many cases work better.
If you've got a small garden plot, you can purchase a bag or two of compost from your local garden store and mix it into your existing garden soil for healthier plants without the potential toxins.
If you're feeling more dedicated (or are looking for a way to reduce the amount of waste your family produces) you can look into making your own compost. There are plenty of in-depth articles on composting, so you'll have to do a little bit of research. But essentially you can throw in "green" compost items (such as kitchen veggie scraps, coffee grounds, grass clippings and other garden trimmings) and add three to four times more "brown" compost items (such as fall leaves, dried wood, cool ash, paper, and corrugated cardboard). Then just give it some time and nature will take its course, providing you with garden fertilizer that's worry-free.
We hope these tips help you create an enjoyable and sustainable garden that will beautify your custom home. And if you're still in the planning stages of building your dream home, we here at Vista Developers would love to help you find the perfect community in Western North Carolina!