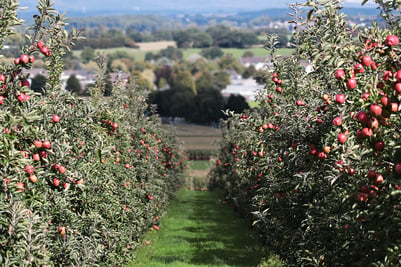 Fall is finally here which means it's finally time for fall festivities! Transitioning from hot summer days to cool fall days allows us to enjoy more outdoor activities without feeling the urge to seek shade. Fortunately, living in Western North Carolina also means having access to countless activities.
Whether you're looking for activities to enjoy with your family or to enjoy with friends, WNC has lots to offer. Hendersonville is known for its pumpkin patches, apple-picking fields, and delicious apple cider donuts that can be found at almost every apple-picking field!
If you're looking for a place to have a true fall experience, then North Carolina is the place for you. You'll get to enjoy everything from the colors, scents, and flavors that hallmark everything you love about fall.
Grandad's Apples
With lots to enjoy, Grandad's Apples is now offering a variety of activities for the family. You can enjoy their corn maze, cow train, and apple cannon all before 4 PM. Although Grandad's Apples had to cancel U-Pick season because of a late freeze, they will still be offering more than 30 different varieties of pre-picked apples that can be purchased. In addition to offering apples, Grandad's Apples also allows its guests to purchase pumpkins and jack o'lanterns of every size from their pumpkin patch.
Stepp's Hillcrest Orchard
If you're looking for a location with several activities to choose from, Stepp's Hillcrest Orchard will not disappoint you. There is no admission and U-Pick season runs from early August through late October. You also have the option of picking grapes and sunflowers! It's the perfect spot for a day with the family while getting the most out of your fall experience. Spend the day at the orchard while you enjoy some tasty apple cider donuts or go on any of their adventures, including their 5-acre corn maze, wagon ride, or apple cannon.
Justus Orchard
Another popular field in Hendersonville is Justus Orchard. With an entire farm to enjoy, Justus Orchard allows you to pick your own apples or purchase pre-picked apples from their market. Aside from apples, Justus allows visitors to pick blackberries and pumpkins from their pumpkin patch. If you're bringing kids along, they will have a blast riding through the orchard on the cow train, blasting apples on their apple cannon, jumping the giant jumping pillow, or feeding the animals!
While the options for enjoying fall in WNC are endless, we believe you can't go wrong with visiting an orchard! Happy picking and happy fall, y'all!