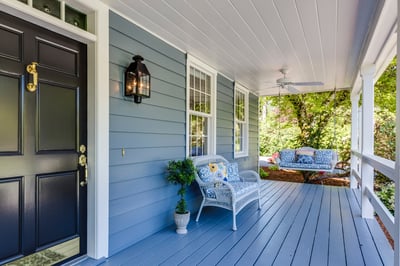 You've often heard that the eyes are the window to the soul. Well, your front porch is an extension of the soul of your home and should serve as a preview of what's to come. It's like a movie trailer: enticing, exciting, and electrifying.
Currently, what vibe do visitors or passers-by glean from your front porch? Is it welcoming and conducive to conversation? Or is uninviting or invoke a hint of neglect? Whether your front porch is a stoop, a landing, or a spacious veranda, it should be considered as the calling card of your home. It's where you can set the tone for what people might encounter once they cross the threshold.
There are countless ways you can add special touches to your front porch that speak to your personal style and at the same create an experience for those who behold it.
Here are just a few simple ways you can add depth, warmth, and finesse to your front porch no matter if it's big or small:
Punch up your front door
Make your front door sing with color. Add a fresh coat of high-gloss paint or go bold with a bright, pop of color. A pastel shade emotes calm and serenity while a vibrant hue lends excitement. Consider a shade of red for a house that's white or neutral. A yellow door adds cheer, turquoise says fun and a purple door on a gray house exudes elegance.
Update your welcome mat
A worn-out and faded mat at the front door is simply uninviting and makes your home look tired. For a few bucks, you can snag a new one that's imprinted with a colorful pattern or with words in a fun font. For even more interest, consider layering the welcome mat over a classy pattern rug. The layered look not only adds texture but warmth as well.
Create vignettes with plants and pots
For an easy way to liven up your front porch, add a variety of pots filled with flowers. Summer offers some beautiful blooms like lavender, peonies, canna, and so many others. Display them in containers of varying sizes and heights to add depth, placing them on either side of the door, on the steps leading up to your front door, or in groupings around a seating area.
Incorporate fabric to soften and texturize
If you have a spacious front porch, where you can add seating arrangements, you've got the potential to create a lovely outdoor living room. Start with a loveseat or sofa that faces the front and add a pair of chairs opposite the larger piece so you have a seating area that's great for serving snacks or sipping coffee or tea. Add a throw blanket, pretty pillows, and an area rug, all of which soften the space and add texture. You might also consider adding curtains that can be tied back or pulled to block out the evening sun or establish privacy.
Bedeck your front door
Things like a wreath, a new door knocker, or updated house numbers are like jewels for your front door. When you pay attention to the small things, you end up making a big statement.
Turn up the volume
The sound of trickling or bubbling water is calming and soothing. You may not live near a babbling brook, but you can add a water feature to your front porch. Not only will the sensory enhancement add a level of serenity to space, but it might also drown out unwanted highway noise if you live near a busy roadway.
Add ambient lighting
Once the sun goes down, your front porch doesn't have to disappear into the night. You can light it up with spotlights, up lights, candlelit lanterns, or novelty lamps. Nothing says 'welcome to my home' than warm ambient lighting on a front porch.
Now that summer has arrived, let your front porch sizzle. Visit Vista Developers to browse house plans and existing houses that are just waiting for your signature styling!