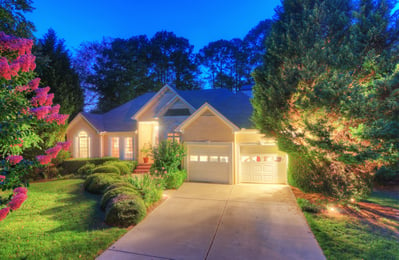 Spring is the best time to sell a house. Buyers are geared up for the hunt, energized by all the things that make this time of year so motivating: the warmer weather, the budding trees, and the aura of newness the season imparts.
Buyers are up for the challenge to find the perfect place to call home. Sellers, your challenge is to make your house the showstopper, the centerstage stealer in a sea of other houses competing for a buyer's eye.
In what is expected to be a frenetic real-estate market come April, May and June, your house will need to stand apart to get noticed. Here are five ways to put yourself ahead of the others:
Declutter
To ensure your home feels bright, airy and spacious (the things that attract buyers), clear the clutter. Start at the entryway and remove shoes, coats and purses. Minimize the knick-knacks on side and end tables. Open up kitchen counters by storing appliances in cupboards. Organize closets so when opened things don't spill out. If possible, remove some furniture pieces to free up the floor space.
Deep clean
A pristine house that shines, sparkles and smells fresh from the inside out will give you an edge. Clean windows, pressure-wash the house, polish floors, wipe down the blinds and baseboards, launder draperies, remove leaves and branches from roofs and gutters and steam-clean carpets. Don't forget to also wipe down ceiling fans, fixtures, countertops and remove the dust bunnies from under furniture and the cobwebs from chandeliers and far corners of your house. Air out the house by opening windows. And if you're preparing for an open house, consider setting out fresh flowers and treats, and using subtle air fresheners in strategic places or baking fresh bread to create an aromatic welcome for buyers.
Replace the old with something new
Wallpaper can make your house look dated and drab. Consider removing old wallpaper and giving the walls a fresh coat of neutral paint. Small updates can also go a long way in kitchens and bathrooms, such as replacing old fixtures and hardware with new, shiny ones. Is the grout and caulk in your bathroom discolored and dingy? Clean or replace to freshen up the room. Loose hinges, broken fixtures and wall pings should all be addressed and repaired or replaced. You don't want to present perspective buyers with a list of needed repairs before they even ever commit.
Help the buyer visually move in
Store personal photographs, collectibles and toys to eliminate those things that hamper the buyer's ability to envision themselves in the house. Hide razors and other personal toiletries in the bathroom, replace photo albums and religious books with neutral magazines on coffee tables or bookshelves, and put away clothes and other personal items in your bedroom. In each room your buyer enters, you'll want them to visually see themselves in the space.
Enhance curb appeal
You've heard the age-old cliché: You never get a second chance to make a good first impression. Well, when a buyer is browsing house ads or doing a drive-by, your home's exterior better scream curb appeal or there's a good chance it will get snubbed. If a buyer can't fall in love with the exterior within a few seconds, it's highly doubtful they'll even consider a peek at the interior. So, be sure the yard is well-manicured, is free of limbs and leaves, shrubs are trimmed, weeds are non-existent, and flower beds are appealing. Give your porch some attention with some potted plants, a wreath on the door, and fresh pillows or cushions on outdoor seating. Update your front door with a fresh coat of paint if needed and clear away any cobwebs from porch corners.
With a little elbow grease, careful thought and preparation, you can have your house in tip-top shape for the springtime selling season! And when you're ready to become a house-hunter, look no further than Vista Developers, offering beautiful lots and customizable home plans in scenic Western North Carolina.