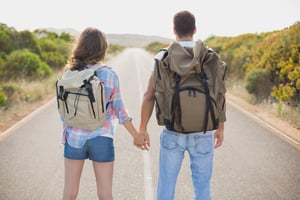 The temperatures are rising and the days are longer, which means now is the best time to spend the day outside exploring the beauty of Asheville, North Carolina.
With blooming flowers, beautiful wildlife, open meadows, hiking trails and waterfalls, the Blue Ridge Mountains are filled with just about everything that makes up a perfect outdoor experience.
Don't let summer pass while you sit inside an air-conditioned house. These four hiking trails beat being surrounded by four walls any day!
Laurel River Trail
Just 45 minutes outside of Asheville is the very popular Laurel River Trail. The trail is seven miles out and back and is rated as easy on the difficulty scale. The trail follows the Big Laurel River and features many swimming holes where you can dip in and cool off on a hot summer day.
This trail is a must-hike by locals and is great for families as well as your four-legged friends. For more information on this trail, click here!
Four Falls
Looking for four waterfalls on one trail? The Four Falls trail is a nine mile trail in DuPont State Forest. This spectacular loop will lead you to the base of Triple Falls, High Falls, and Bridal Veil Falls, and alongside the shoreline of cool, placid Lake Imaging. This hike also includes one of the most popular swimming holes in the Blue Ridge Mountains, Hooker Falls.
With its waterfalls, swimming holes, and shady wooded areas, this trail is ideal for those seeking out a little relief from the summer sun.
Craggy Gardens
Are you starting to introduce your kids to trails? The Craggy Gardens trail is a great beginner trail for kids: short, steep, but not demanding. Plus the panoramic mountain views provide a lovely backdrop for picnics.
Due to the higher elevation, Craggy Gardens makes for a great summertime hike. The temperature at the top of the trail is about 5-20 degrees cooler than in Asheville! If these cooler temps have you wanting to hike more than 1.4 miles, you can combine this hike with Graveyard Fields and Skinny Dip Falls.
Skinny Dip Falls
Skinny Dip Falls is easily one of the most popular waterfall trails on the Blue Ridge Parkway. The 0.9-mile hike visits a scenic section of shady forest and descends to the stunning cascade of Skinny Dip Falls. The crisp, clear water fills up several deep pools, making this a popular swimming hole near Asheville.
For the best, crowd-free experience, hike in the mornings mid-week!
Contact Vista
These are just some of the hikes that the Western North Carolina area has to offer to you and your family. If you are looking to make the Western North Carolina Area your new home or would like more information on building your dream home in the Blue Ridge Mountains, contact Vista Developers today!