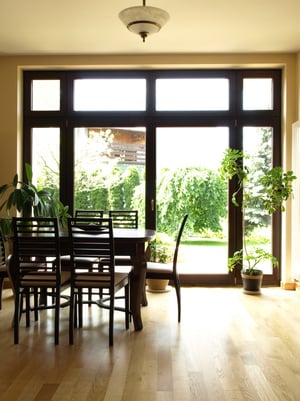 As home designs advance to be more environmentally responsible, trends that connect us with nature are becoming more prevalent than ever.
2019 will usher in brand new home design ideas and sustainability efforts, but it will also incorporate older designs that allow homeowners to share space with nature and enjoy the outdoors in their own living spaces.
Sunrooms
The sunroom trend emerged in the 1980s and dwindled back down in the mid-1990s. Many newer home builders gloss over the idea of incorporating a sunroom, but trends are showing 2019 is the perfect time to add a sunroom to your home space.
People love sunrooms because it's a way to integrate nature with home living space. Often added as "extensions" into nature, sunrooms offer a lot of light and openness for those who love to take in the elements. The great thing about sunrooms is that there's still a barrier so you don't have to experience the bugs, extreme heat, rain, and other elements of being outdoors. Have a meal outdoors without worrying about the weather, or lounge in your sunroom with a book to enjoy the beauty of the garden. You can even use a sunroom to grow food plants during the winter months!
Colorful Kitchens
Kitchens have been historically monotone in terms of design and color, but the last few years have brought back more colorful kitchens. In 2019, look for a continuation of bold kitchen colors, but also nature-themes. Your kitchen is likely a room where you'll be spending a significant portion of your day, so the way it looks and feels should factor into your home design choices.
Years ago, bold nature-themed kitchens were popular with floral wallpaper and even garden or farm themes. This home design trend is on the rise again, but this time with a bit more elegance. Instead of the straightforward theme of a farm or garden, kitchens in 2019 will feature a more ambiguous form of nature by utilizing natural colors such as a light mushroom or luscious leafy green with natural accents such as wood. In fact, leaves are becoming a more prevalent theme in many contemporary kitchens.
Multifunctional Furniture
With the recent advancements of smarter homes, furniture not only complements the technology—it is technology! In 2019, you can expect more modern furniture trends where the pieces are streamlined and multifunctional. Look for couches that have spaces underneath or in the back to store your favorite books, beds that fold out from armchairs, tables that double as seats, wall-mounted and foldable desks, and more.
Acquiring more space is a trend that's on the way out, and what's coming in 2019 is making the most of the space you already have. Things that used to take up a lot of space are becoming sleeker and more economically sized. For example, many coffee tables fold out into full-fledged desks, and full-length mirrors open into the wall as plus-size storage cabinets. Smarter, more functional furniture pieces are sporting a retro vibe with solid colors and smooth surfaces, a lot like we saw in the 1970s. Don't hold your breath for a rerun of orange shag wall-to-wall carpet, though!
Learn more about home design trends to try in 2019 by clicking the banner to download our free infographic.