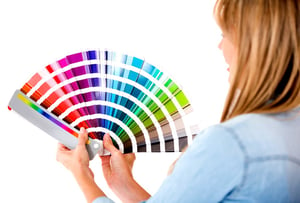 Each year, home design color trends change along with other trends in interior design. In the last few years, a surge in minimalism has taken home design by force, thereby curtailing the color palette involved. But in 2019, be prepared to see a bit more color with some bolder options for different spaces in the home.
The great news is that there are both vivid and neutral tones in the color trends for 2019. Whether you're looking for a new hue for your dining room or you want a splash of color for the kitchen, there are up-and-coming colors for both.
But not all rooms are created equal. Living rooms exude a different vibe than kitchens and dining rooms, so take a look at what's trending before starting your next home color makeover.
With last year's color of the year being a moody and inspiring darker shade called Nightwatch Green, kitchens are seeing a rise in creamy and leafy greens along with toned-down shades of mushroom. These palettes are a great way to create a calmer space in your kitchen. By calling on the natural realm of color, you're taking a bold and smart design color move.
Your dining room is a central gathering place in your home. The more people, the more crowded a room can be, and the color makes all the difference. Inspire your dining experiences with one of the top trending colors in 2019, including some of the darker blue options. Depending on the accents and furniture you display, a timeless and elegant blue can be perfect for your dining room.
Whether a quick DIY project or total home makeover, the color of a room impacts how you feel when you're there. Get the right color by checking out the Sherwin-Williams 2019 Colormix Color Forecast. Here are their top six trends for the home design color palette in 2019:
Top six color themes from Sherwin-Williams for 2019 trend:
Shapeshifter – Some may think of it as an off-white, but this calming and interesting color includes shades of blue and gray for the perfect experience.
Wanderer – Luxurious and natural in the same tone, this color describes the beauty of the desert and also the places you want to go.
Aficionado – This darker blue-gray is best accentuated with gold and light-colored wood. It's classy and makes any space feel more elegant.
Enthusiast – Buckle up for a riskier pop of color—it's a fun, energetic green that brings life and enthusiasm to your home designs.
Naturalist – Gold and green best accentuate this nature-based color as it tones down the feel of a room with its lush and not-too-loud hues.


Raconteur – You won't feel sure if it's a shade of gray of brown, but it's made to incorporate everything.